Everyone makes mistakes; that is a given.
But not everyone knows how to make the most out of them.
Often people are quick to blame others and make excuses, and when that happens, nothing really changes.
What differentiates true leaders from blamers is the willingness to acknowledge they have made a mistake and to say they're sorry (and mean it!).
The best leaders know that it's possible to turn a mistake into a valuable moment of leadership.
Here is how to make the most of our mistakes:
Mistakes are a given. Don't hide behind the truth, but be transparent and candid and own your error. Mistakes happen; we are human, and accountability makes us honorable.
Mistakes account for character. Be the leader who leads by example; demonstrate to those who follow you that when you mess up you will acknowledge it. Be a role model that others are proud to emulate.
Mistakes have lots to teach us. Demonstrate that you have learned a lesson from the mistake you have made and you will pay the price of a lesson well learned. The best kind of mistake is where the costs are low but the learning is high, and the best leaders know how to translate the liability of an error into an asset.
Mistakes can be fixed if broken. When possible, fix the mistake immediately, and do everything possible to reduce the chance that it will be repeated. Poor decisions and flawed processes can sometimes lead to mistakes, but bad outcomes can often be fixed or at least mitigated.
Mistakes can be laced with an apologize. When you say you are sorry, mean what you say. An apology has to be heartfelt and have substance beyond your words. When you speak from the heart you regain trust.
Everyone we know makes mistakes, but sometimes those mistakes can take away our confidence to lead.
If we know that our mistakes play a critical role in leadership development, we might just take the time to make the most of them.
The most effective thing we can do is convert our mistakes into a valuable moment of leadership.
Lead From Within: Leaders must take responsibility for their mistakes, accept ownership, set a positive example, and work toward positive solutions. Many times, colleagues and stakeholders just want to hear, "I was wrong, I acknowledge it, and I apologize."
---
N A T I O N A L   B E S T S E L L E R
The Leadership Gap: What Gets Between You and Your Greatness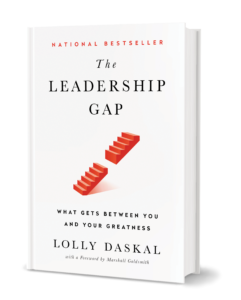 After decades of coaching powerful executives around the world, Lolly Daskal has observed that leaders rise to their positions relying on a specific set of values and traits. But in time, every executive reaches a point when their performance suffers and failure persists. Very few understand why or how to prevent it.
---
Additional Reading you might enjoy:

Photo Credit: Getty Images
---
Lolly Daskal is one of the most sought-after executive leadership coaches in the world. Her extensive cross-cultural expertise spans 14 countries, six languages and hundreds of companies. As founder and CEO of Lead From Within, her proprietary leadership program is engineered to be a catalyst for leaders who want to enhance performance and make a meaningful difference in their companies, their lives, and the world.

Of Lolly's many awards and accolades, Lolly was designated a Top-50 Leadership and Management Expert by Inc. magazine. Huffington Post honored Lolly with the title of The Most Inspiring Woman in the World. Her writing has appeared in HBR, Inc.com, Fast Company (Ask The Expert), Huffington Post, and Psychology Today, and others. Her newest book, The Leadership Gap: What Gets Between You and Your Greatness has become a national bestseller.
---