She had just finished giving her presentation, which she had been preparing for weeks. She could feel all the eyes in the room on her. She knew she had failed and she felt miserable.
She dragged herself to her seat and slumped down in the chair. She didn't dare look up for fear of even more embarrassment.
She felt depressed, disappointed, and most of all dejected. It would take her weeks to recover from her presumed failure.
Everyone goes through times when they feel they have not been at their best, when they could have been better, when they should have done more.
But when our response to our disappointments become bigger than the situation, that is when we find ourselves in trouble.
Here are some thoughts to remember about failure and blame:
No matter what happened, you can't spend your life blaming yourself. Things go wrong; people mess up. Remember that you are not what happened in that moment—there is much more to you than one mishap. If you allow for something negative to grow bigger than it should be, you're shrinking all the positives that make up who you are.
Failing is not the end of the world. The faster you accept that failure is part of life, the faster you can get on with being the person you are meant to be. You will never be 100 percent sure everything will work—sometimes it does, sometimes it doesn't. A mistake is an event, not a person!
There is a lot you cannot control, but there is one thing you can. You can always control your reactions—to failure and to everything else. Wasting your time and emotional energy on what is beyond your control is a recipe for self-loathing. Invest your energy in the things you can change and the things you can control—namely, your behavior and responses.
The only person who can move past failure is you. The root of any experience comes from the relationship you have with yourself. If you internalize every disappointing setback with contempt and self-loathing, a life of solitary confinement and discontentment awaits you.
Eliminate the nonessentials. When things go wrong—and they do from time to time—stop and identify what is truly essential. See what is important and what is not, and eliminate the guilt and shame that keep you from moving forward. Remember you cannot accomplish anything if you are stuck in blaming yourself, so concentrate on what is essential and get rid of anything that isn't serving you well.
There will be times you don't like yourself. When we don't know who to blame we blame ourselves; when we don't know who to hate, we hate ourselves. But that's OK when you know you can improve and that there will be second chances. Concentrate on doing what you know and doing your best.
The way you think about yourself determines your reality. We imprison ourselves when we allow outside negative circumstances to dictate how we should feel. You can dwell in that cell, but only you can exonerate yourself. You are not being hurt by the way people think about you—much of which is a reflection of how you think about yourself to begin with.
You can hold on to disappointment, hate and even the bitterness, but you have to let go of the blame. The blame is what's tearing you down.
Lead From Within: If you spend a lot of time blaming yourself, ask yourself this question: If you had a person in your life treating you the way you treat yourself, wouldn't you have gotten rid of them a long time ago? Stop blaming yourself and give yourself a break.
---
N A T I O N A L   B E S T S E L L E R
The Leadership Gap: What Gets Between You and Your Greatness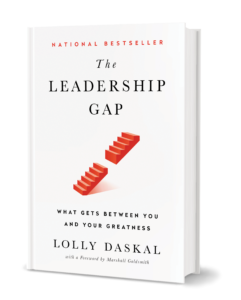 After decades of coaching powerful executives around the world, Lolly Daskal has observed that leaders rise to their positions relying on a specific set of values and traits. But in time, every executive reaches a point when their performance suffers and failure persists. Very few understand why or how to prevent it.
---
Additional Reading you might enjoy:

Photo Credit: Getty Images
---
Lolly Daskal is one of the most sought-after executive leadership coaches in the world. Her extensive cross-cultural expertise spans 14 countries, six languages and hundreds of companies. As founder and CEO of Lead From Within, her proprietary leadership program is engineered to be a catalyst for leaders who want to enhance performance and make a meaningful difference in their companies, their lives, and the world.

Of Lolly's many awards and accolades, Lolly was designated a Top-50 Leadership and Management Expert by Inc. magazine. Huffington Post honored Lolly with the title of The Most Inspiring Woman in the World. Her writing has appeared in HBR, Inc.com, Fast Company (Ask The Expert), Huffington Post, and Psychology Today, and others. Her newest book, The Leadership Gap: What Gets Between You and Your Greatness has become a national bestseller.
---