When it comes to success, many of us never even think about our attitude. Most of us are so busy just trying to live our lives, with all our hundred responsibilities and our thousand tasks and our million commitments, that we find ourselves often reacting to our lives instead of responding to them.
Successful leaders don't have fewer problems than unsuccessful leaders—they just have a different attitude.
The remarkable thing is that we have a choice every day regarding our attitude:
Don't get locked into negative thoughts where you've experienced difficult times in the past. Any ill feelings and negative thoughts you may have had in the past were of no value to you then and have not increased in worth since.
It's not helpful to react in negative ways to daily events. Be mindful of how you choose to interpret what happens to you. The way you react and reason with the events in your life is the way your memories will be stored.
 When you have harsh struggles in store, your attitude can save you. You can't change the inevitable and you don't know what will happen in the future—struggle and pain may arrive uninvited. And it's at those times especially that your attitude will make or break you.
Many of us have forgotten how to control our attitude, even though it is really the only control we have. When we hold on tight to our misgivings, when we dwell on the ways we've been mistreated, it's easy to forget that our attitude is what defines the things we experience.
Yesterday is gone. Tomorrow may never come, so the present is the moment we have.
Lead From Within: Let us strive to make our reactions and responses the best they can be, because our most precious attribute is our attitude. The choice is ours: We can hold on to negative thoughts or we can put some altitude in our attitude!
---
N A T I O N A L   B E S T S E L L E R
The Leadership Gap: What Gets Between You and Your Greatness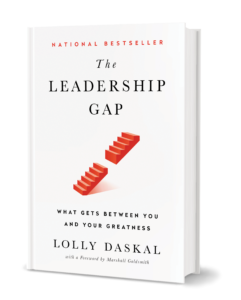 After decades of coaching powerful executives around the world, Lolly Daskal has observed that leaders rise to their positions relying on a specific set of values and traits. But in time, every executive reaches a point when their performance suffers and failure persists. Very few understand why or how to prevent it.
---
Additional Reading you might enjoy:

Photo Credit: Getty Images
---
Lolly Daskal is one of the most sought-after executive leadership coaches in the world. Her extensive cross-cultural expertise spans 14 countries, six languages and hundreds of companies. As founder and CEO of Lead From Within, her proprietary leadership program is engineered to be a catalyst for leaders who want to enhance performance and make a meaningful difference in their companies, their lives, and the world.

Of Lolly's many awards and accolades, Lolly was designated a Top-50 Leadership and Management Expert by Inc. magazine. Huffington Post honored Lolly with the title of The Most Inspiring Woman in the World. Her writing has appeared in HBR, Inc.com, Fast Company (Ask The Expert), Huffington Post, and Psychology Today, and others. Her newest book, The Leadership Gap: What Gets Between You and Your Greatness has become a national bestseller.
---