It's easy to find lists of all the things that leaders shouldn't do. Here are the positive steps you can take to build successful leadership.
Especially at the beginning of a leadership journey, it's easy to focus on all the things you're not supposed to do—don't be inaccessible, don't play favorites, don't build your authority on fear. And those things are important, but if you focus exclusively on the don'ts you may have a hard time moving forward.
Here are 21 positive steps that will help you become the kind of the leader you can take great pride in, the kind people will honor with their followership.
1. Keep tabs on expectations. As a new leader you shouldn't take for granted your new title or your role for granted. Just because you are the leader doesn't mean you have to have it all figured out.
2. Grow your competencies and develop your skills. As a new leader studying every day is important, if you are doing just enough to get by, the day will come that it's no longer good enough.
3. Listen to learn. Odds are that many—if not all—of the people on your team know more about various aspects of the business than you do. As a new leader respect the expertise of others.
4. Humility goes a long way. As a new leader humility is a skill that must acquired and practiced over and over again.
5. Be the missing link. As a new leader recognize that although your team may be very capable, you were placed in that job for a reason. You bring a perspective that the team may lack. Know what it is, and make sure they know what it is too.
6. Speak well of everyone. As a new leader, don't badmouth upper management to your team or your team to upper management. It won't score points with either side.
7. Protect and shield. As a new leader guard your people from unnecessary hassles from upstairs or outside, and from any unnecessary drama.
8. Ground yourself in trust. As a new leader make sure your people know that trust—giving it, earning it and building it together—is a top priority for the team.
9. Gain a sixth sense. As a new leader tune into your perceptions enough to be able to walk into a room and sense the morale of the occupants.
10. Know what is and isn't important. As a new leader ignore trivial infractions and let them go unless they are linked to something bigger. Never ignore major violations.
11. Be the meditator, the coach, the mentor: As a new leader act promptly to squelch dissension, disputes, discord and disagreements.
12. Speak with candor. As a new leader avoid sarcasm, dishonesty, or gossip. Don't let anything you say in the moment interfere with your reputation as someone who's unfailingly candid, honest, and kind.
13. Strive to build a workplace in which respect is the centerpiece. As a new leader it requires that you and everyone on your team focus on both giving respect and earning it.
14. Make character matter. As a new leader make integrity and character the foundation of your leadership. Remember that you're always leading by example.
15. Measure your actions. As a new leader evaluate everything you do to determine whether you're having the effect you want to. If you don't already know, learn how to use data to better understand your wins and misses.
16. Know what is urgent and what is not. As a new leader give a sense of urgency to tasks that are truly important. If you don't convey it, how will they know?
17. Be willing to admit you don't know. As a new leader just because you are the leader doesn't mean you have all the answers. When you don't know, say so—then make it a point to inquire, study and learn.
18. Treat everyone with courtesy. As a new leader treat people as you want to be treated.
19. Stay focused on mission. As a new leader keep your mission at the front of everything you do, no matter what distractions and outside influences enter the picture.
20. Have a low tolerance level for intolerance. As a new leader don't EVER put up with bigots, bullies, bastards, weasels, snakes, swine, slimeballs or sleaze balls.
21. Lead by example. As a new leader this is where your leadership will ultimately be measured. So lead by example always.
Lead From Within: Before you are a leader success is all about growing yourself, when you become a leader success is all about growing others.
---
N A T I O N A L   B E S T S E L L E R
The Leadership Gap: What Gets Between You and Your Greatness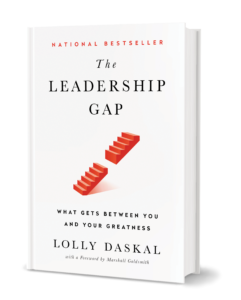 After decades of coaching powerful executives around the world, Lolly Daskal has observed that leaders rise to their positions relying on a specific set of values and traits. But in time, every executive reaches a point when their performance suffers and failure persists. Very few understand why or how to prevent it.
---
Additional Reading you might enjoy:

Photo Credit: Getty Images
---
Lolly Daskal is one of the most sought-after executive leadership coaches in the world. Her extensive cross-cultural expertise spans 14 countries, six languages and hundreds of companies. As founder and CEO of Lead From Within, her proprietary leadership program is engineered to be a catalyst for leaders who want to enhance performance and make a meaningful difference in their companies, their lives, and the world.

Of Lolly's many awards and accolades, Lolly was designated a Top-50 Leadership and Management Expert by Inc. magazine. Huffington Post honored Lolly with the title of The Most Inspiring Woman in the World. Her writing has appeared in HBR, Inc.com, Fast Company (Ask The Expert), Huffington Post, and Psychology Today, and others. Her newest book, The Leadership Gap: What Gets Between You and Your Greatness has become a national bestseller.
---