The world's growing ever more competitive. Even if you already have a job, making sure you have access to the best opportunities means going beyond the usual. It's not enough to stay on top of your to-do list or meet the expectations of your job description. If you want to make an impression, you have to differentiate yourself from others.
There are three things people notice that can help or hinder you in setting yourself apart: your attitude, how you treat others, and how you act when you think no one is watching.
Specifically, here are 10 ways to make a successful impression in the workplace:
1. Become a trailblazer.
One of the best ways to make an impact is by breaking ground with new ideas, spearheading new concepts, and originating new proposals. Be a trailblazer–don't be afraid to make your own tracks. Work to always be the person who can offer a creative solution or a solid Plan B. Be resourceful enough to do a lot with a little.
2. Keep people informed.
No one likes chasing people or information. Do everyone a favor and update them often. People often think they should wait to communicate when a task is finished or they have specific information. When you let people know what's happening–even if it means saying you don't know–you're saving them from speculation, distraction, and rumors. A simple status update can buy a lot of peace of mind.
3. Be the go-to person.
Become the person other people count on. Few things make a bigger impression. Don't work to become a person of success but a person of value.
4. Become a forecaster.
Keep your thinking a step ahead of the rest. If everyone is worrying about today's problems, think about tomorrow's solutions. Don't wait for things reactively; instead, be responsive to issues and trends before there's a problem. It comes down to paying attention to the people and problems you're dealing with and noticing patterns or potential pitfalls. We've all had moments when we know we could have done more. Long before you get to that moment, come up with a plan and set it in motion.
5. Have confidence to speak up.
Have you ever sat in a meeting where there were only two people doing all the talking? If you want to make an impact, be willing to speak up and speak out. Share what you know and let others know how you can be supportive and helpful. Leaders are never silent in meetings.
6. Do things without being asked.
Never ask, "Is there anything I can do?" Just look around and find something useful to do. Making an impact means seeing what needs to get done and taking the initiative to make sure it happens. Try to do something every day that no one asked you to do.
7. Be a great listener.
Most people think that making an impact is all about what you say and do. Often overlooked is another important way you can leave your mark–by becoming a great listener. Pay attention to what people say. Listen to understand and focus on the speaker instead of thinking ahead to your reply.
8. Go the extra mile.
Above all, you have to do your job and do it with excellence. But that's where most people stop–and that means you can make an impact by going further and being more helpful, more supportive, more valuable. The extra mile is never crowded.
9. Have a positive mindset.
Whether you're just starting out in your first job or are leading a team of your own, remember that people gravitate toward those who have a positive attitude. It's the person who takes on every task–even the most tedious–with enthusiasm and joy who truly stands out. If you view everything through a negative lens then you're likely to have a negative mindset, but if you cultivate a positive attitude it will take you far.
10. Take the lead.
Everyone has the choice to be a leader, to make an impact and leave their mark. Too many people back off from taking the lead in the mistaken belief that leadership and greatness are reserved for a select few. But in the many years I've served as an executive leadership coach, spending time with top leaders in virtually every field, I have witnessed that the only way people give away their power is by thinking they don't have any. If you take it upon yourself to lead with the idea of serving others, you will not only stand out but will also leave a strong and lasting impression.
If you're the kind of person whose foundation is positivity, service, and guiding and supporting others while trying to solve problems and come up new solutions, you will soon find yourself standing out–and setting yourself up to become the kind of leader others respect and want to follow.
---
N A T I O N A L   B E S T S E L L E R
The Leadership Gap: What Gets Between You and Your Greatness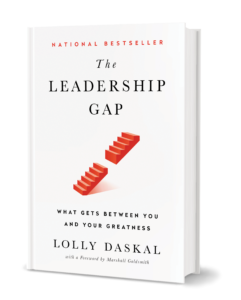 After decades of coaching powerful executives around the world, Lolly Daskal has observed that leaders rise to their positions relying on a specific set of values and traits. But in time, every executive reaches a point when their performance suffers and failure persists. Very few understand why or how to prevent it.
---
Additional Reading you might enjoy:

Photo Credit: Getty Images
---
Lolly Daskal is one of the most sought-after executive leadership coaches in the world. Her extensive cross-cultural expertise spans 14 countries, six languages and hundreds of companies. As founder and CEO of Lead From Within, her proprietary leadership program is engineered to be a catalyst for leaders who want to enhance performance and make a meaningful difference in their companies, their lives, and the world.

Of Lolly's many awards and accolades, Lolly was designated a Top-50 Leadership and Management Expert by Inc. magazine. Huffington Post honored Lolly with the title of The Most Inspiring Woman in the World. Her writing has appeared in HBR, Inc.com, Fast Company (Ask The Expert), Huffington Post, and Psychology Today, and others. Her newest book, The Leadership Gap: What Gets Between You and Your Greatness has become a national bestseller.
---